Hey friends.
As we approach the new year, we want to present you with an opportunity to partner with KIDS Inc. in 2017.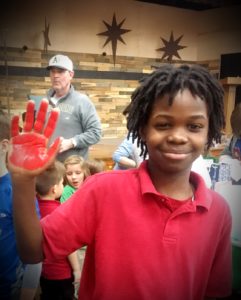 One of our most important areas is our elementary outreach. These programs, including our after-school program, tutoring program, and school partnerships, have grown and flourished in the past year, and we are so grateful. To keep this momentum going and continue serving these students, we need financial partnerships. That's why we want to be totally up-front with you about what we need. This isn't normally our style, but we'd like to share with you our actual budget for these programs for the 2017 Spring Semester.
HERE'S THE BREAKDOWN…
As our Elementary Outreach Coordinator, Eliza works harder than maybe anyone we know—all while completing her Social Work degree and carrying many outside responsibilities. She's a rock star. She loves our students relentlessly, and she deserves to be paid much more than we can afford. She's been very gracious, and for the coming year has committed 20 hours per week, for 28 weeks (January-July), at $9/hour. That puts the cost to pay her at $5,040.
E-CLUB FOOD AND BIBLES
As we continue E-Club, our after-school program, two of the things we need most are food and bibles. Many of our students lack food at home, so we always like to give them a snack at E-Club. The cost for food is $25/week for 20 weeks (January-May, with a Spring Break), or $500 total.
In addition, our students have been asking for bibles. How exciting is that? We want to always have a bible on hand for any student who asks. The bibles we give students–the Jesus Storybook Bible–come in cases of 20 for $135, and we need two cases. This is $270 total.
Another cost we face is a building fee. The facility we share with a church and others is very gracious about our use of the space. We are giving them $100/month for the use of the building for elementary programs. For the coming semester that is $500 altogether.
One last elementary outreach expense is a teacher appreciation gift for our partner teachers at SENSE Charter School, where we conduct our tutoring program. To build rapport and thank them for their partnership, we would like to do something nice for them this year. This costs about $100.
TOTAL BUDGET
If you add up the parts, it looks like this.
$5,040 – Salary
$500 – Food
$270 – Bibles
$500 – Building
$100 – Teacher Gift
__________________
Total Cost = $6,410
Monthly Cost (January–July) = $916 per month
Altogether, it costs less than $1000/month to pay our outreach coordinator, provide for our students, and build relationships with those around us. We seek always to be good stewards of what God gives us, and while we want to love our students, we also try to conduct our ministry as frugally as possible. That is why we feel confident letting you know exactly what we need. If you feel led to be part of making this work possible for the sake of our students and the gospel, please visit our donate page at the tab above.
Thanks for partnering with us, and for all you do to further the kingdom through KIDS Inc.
Happy New Year!