Over the past few weeks, we've been sharing with you some of our students' stories, so that you can be praying for them and also catch a more personal glimpse of what we do at KIDS Inc. If you missed the first two installments on our friends Logan and Stella, you can find them below.
Meet Michael…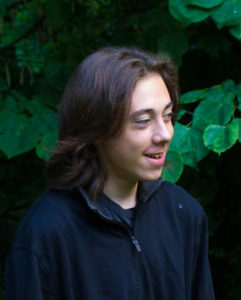 Michael is in eighth grade, lives with his mom, and has been coming to our programs for a number of years. His maturity, humor, and thoughtfulness stand out among our students. A few months ago, Michael decided to be baptized! We asked him some questions, and wanted to share his responses.
Q. What made you want to be baptized?
A. There was a time when I didn't believe in God, but coming [to KIDS Inc. programs] helped me realize God has put me here and is directing me. I don't know what could happen tomorrow, but I know God is my Savior. So I wanted to take that to the next level.
I don't know what could happen tomorrow, but I know God is my Savior.
Q. What is different in your life since choosing to follow Christ?
A. I started to feel something different, and then I realized it's because I was changing. The way I handle things, my family especially. Me and my dad don't really get along. But God helped me realize I couldn't take things out on my dad, or on God either. That's what I see different in my attitude. Also my perspective is different now. When something bad happens, there's still hope. God is going to come back.
Q. What keeps you walking with God?
A. This place is my home away from home, and I really felt like God was talking to me here. I realize that if I don't make the effort and come around Christians, other things are going to keep me away. NCL [KIDS Inc. Bible study] helped me realize this other stuff I was doing would separate me from God; being away made me realize how important this is.
How can you pray for Michael? He says:
Pray for my future, like where I'm going to end up.
My best friend is an atheist, I'd like to help bring him closer to God.
Pray for my family. I really want to help my dad. My mom has encouraged me a lot sometimes, so I really respect her for that. Now my next step is to figure out how to be that to my dad. Not like I'm all this, because there is a lot I don't know.

But if people pray for me I want them to pray for my dad too.
It's humbling for us to see our people and programs impacting students' lives. If you are interested in helping keep these programs running, click our donate tab to give a gift. As always, we ask you to pray with us most of all. Your faithfulness reveals God's goodness. Thanks for being part of this work.